Mr. Eric L. Brown, M. Ed.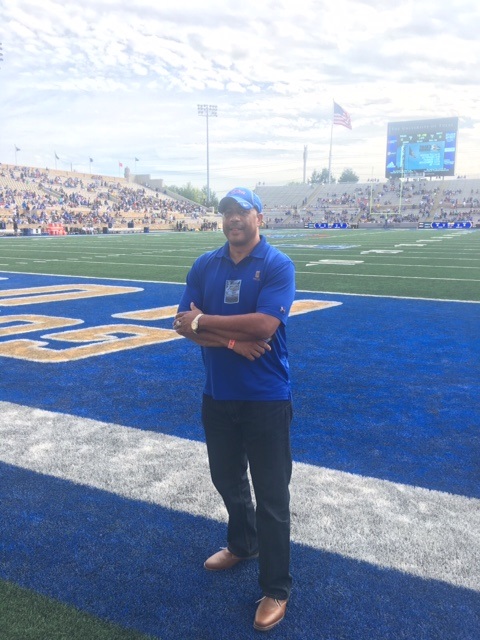 Born in St. Louis, Missouri, Mr. Eric Brown grew up in the Penrose Neighborhood.

In 1987, Mr. Eric Brown was fortunate to fulfill his childhood dream when he made the Kansas City Chiefs' football team as a wide receiver. In 1989, with a passion for educating and giving back to the community, Mr. Brown earned his Bachelor of Science degree in secondary social science from the University of Tulsa. He started his teaching career during the 1989-1990 school year at St. Engelbert's Catholic School in North St. Louis City. For nearly eleven years, Mr. Brown served as a Case Manager at Bellefontaine Habilitation Center working with persons with developmental disabilities.

Mr. Brown reached another milestone when he was chosen as the Head Football Coach for St. Thomas Aquinas-Mercy High School 1999-2000. Thereafter, he began teaching social science classes at Hazelwood East High School during the 2001-2002 school year. During the 2004-2005 school year, Mr. Brown was recognized and honored for contributions made to the education of our nation's youth by Who's Who Among America's Teachers. After several years of teaching, Mr. Brown earned his Masters in School Administration from Lindenwood University in 2012. Recently, in March 2023, Mr. Brown's students were recognized by the Hazelwood School District for their literary work during Women's History Month.

Mr. Brown has an extensive background in coaching sports. As the offensive coordinator for Hazelwood East football team, Mr. Brown along with many other players, coaches and support staff were victorious in 2008 when we defeated Raytown South 39-34, to win the Missouri class 5 State Championship. On September 29, 2017, Mr. Eric Brown, along with his college teammates, for the 1982 football season were inducted into the University of Tulsa's Hall of Fame.

This upcoming 2023-2024 school year will be his twenty-third consecutive year of teaching social studies at Hazelwood East High School. Mr. Brown and his wife Diane have five children: Brandi, Britney, Eric Brown II, Broc and Corbe. Two of his children are graduates from Hazelwood East High School. In his free time, Mr. Brown enjoys long bike rides, fishing and visiting state parks across our country.

Mr. Brown is a Missouri certified teacher in social science K-12. In addition, Mr. Brown is College Board certified to teach Advanced Placement World History. This school year he will teach Advanced Placement World History, Social Justice and three General World History classes at Hazelwood East High School.