Return to Headlines
HSD Offers Sports Officiating Class To Help Combat Decline In Sports Officials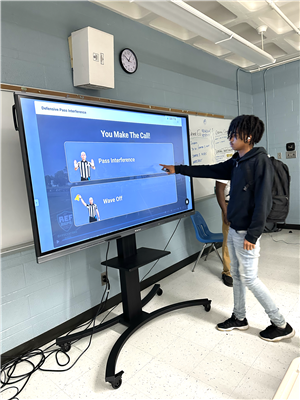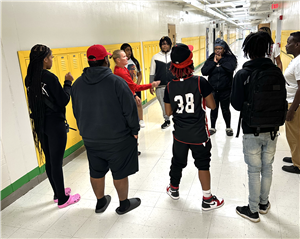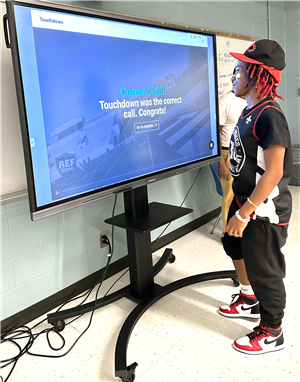 In February 2023, the Missouri State High School Activities Association (MSHSAA) partnered with RefReps to address the officials shortage and ballooning age of officials. RefReps has created an all-digital, turnkey curriculum that is flexible in its implementation to assist with this issue, and the Hazelwood School District immediately took an interest and piloted the class in the spring semester.
The district's first sports officiating class was offered at West High, with seven students completing the course, four seniors and three juniors. Jordyn Askew and Jiyu Zhang, now seniors at West High, have since completed their certification to become MSHSAA officials in volleyball.
"I was thrilled to hear that HSD was offering the sports officiating class because it provided me with the opportunity to strive beyond being an athlete," Jiyu exclaimed. "I was excited to get my officiate license in volleyball, a sport which I've enjoyed watching and playing non-competitively since middle school! I've gained new knowledge about volleyball that I didn't previously have. After completing the course and testing, I am proud to say that I am licensed to start officiating!"
Additionally, the course was offered during summer school, and seven more West High students completed the curriculum, setting themselves up for an opportunity to become MSHSAA certified. The RefReps Officiating Education System (OES) is featured in 27 states and uses interactive training videos to help new officials become more confident and accurate on the field, court, or mat.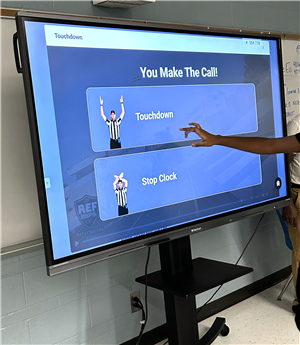 The sports officiating class is offered districtwide, with ten students enrolled at Central High and seven at East High this fall; West High's course will take place in the spring. The goal of the class is multifaceted and includes giving a better understanding of their sports, developing public relations skills, and providing job opportunities. All while helping solve a sports official shortage, which has been on the decline for a decade. No prerequisites, GPA requirements, or athletic abilities are required to enroll in the class.
"This class is important because it helps address the shortage of referees we have nationwide while allowing students to gain more of a perspective of what the referee is going through while officiating the sport they may play," Ashley Smith, sports officiating teacher at Central High, detailed. "Overall, this class is a great opportunity for our students to dive deeper into sports they love, watch, and play."
Students who complete the program have the opportunity to officiate sporting events at the middle and elementary school levels. After graduating high school, they can officiate high school games once they pass the test to become MSHSAA certified.
"The sports officiating program, one of our number of real-world courses, ensures our students are engaged and empowered to lead their educational journey," Dr. Rhonda Key, HSD's Assistant Superintendent of High School Education, explained. "Whether college, trade school, military, or entering the workforce, we desire to see our students ready to lead themselves, their careers, and their communities. We are proud to offer this opportunity to our high school students."
HSD is thrilled to offer this opportunity for students to get involved in sports officiating and continue to raise their voices for the community and HSD.