Return to Headlines
West High's Marvella Townsend Presented with Exploring Teaching Pathway Scholarship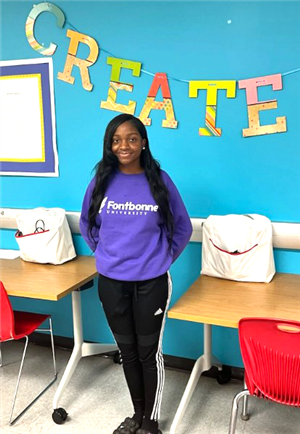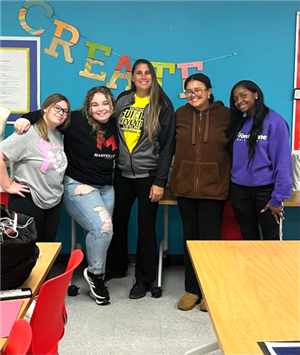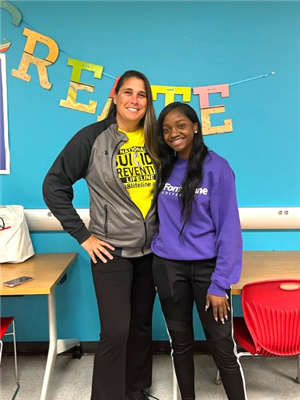 HSD congratulates West High's Marvella Townsend for receiving the Exploring Teaching Pathway Scholarship through the Hazelwood School District. The $2,250 scholarship will go towards Marvella's pursuit of an Elementary Education degree at Fontbonne University.
The Exploring Teaching program is a DESE-approved Career and Technical Education (CTE) program that allows students to explore the education industry while taking various courses throughout the pathway. In all CTE programs, students learn about different industries and apply what they learn through their coursework, Career and Technical Student Organization (CTSO), and their work-related experience.
Students in the Exploring Teaching program apply their learning in various capacities within HSD's elementary schools and middle schools. In these settings, they work with classroom teachers and/or librarians to gain a deeper insight into their chosen career path.
"The Exploring Teaching Program has been one of the best highlights of my senior year," boasted Marvella. "It's an amazing program for students who think they may be interested in entering the education field and want to get some experience. I was introduced to the education field by learning the essentials of running a classroom while getting hands-on experience with students."
There are currently five students in the program, and Marvella's determination stood out in her application for the scholarship.
"I am so proud of Marvella," exclaimed Nicole Smith, a Practical Arts and Family and Consumer Science teacher at West High. "We started in August when she suggested that she may be interested in education. She accepted that challenge and excelled in her first internship experience in January. Many months of practice and dedication to the field experience pushed her to commit to attending Fontbonne and continuing her career path in education."
The program is open to all high school seniors in HSD. Students must have senior status to participate in the Exploring Teaching Capstone and Exploring Teaching Internship courses. All students in the program have an opportunity to apply for the scholarship, which is backed by a grant through the state of Missouri to increase teacher recruitment.
"I am very excited and overjoyed about winning this scholarship," Marvella said. "When I was informed about the scholarship, I was hesitant to fill it out because it was so late, but I just went for it and ended up winning, so it was really a surprise."
Marvella Townsend's commitment to educating the next generation makes us HSD Proud, and the Hazelwood School District is excited to see all that her future holds!