Return to Headlines
Dr. Nettie Collins-Hart Named Superintendent of the Year by NASS
Hazelwood School District Superintendent Dr. Nettie Collins-Hart has been named 2019 Superintendent of the Year by the National Association of School Superintendents.
"I am honored to receive recognition as the 2019 Superintendent of the Year," Collins-Hart said. "It is a privilege to lead the students and staff of the Hazelwood School District, and I look forward to continuing our efforts in creating and achieving high expectations for all students,"
"Our teachers and staff are making a true difference for our children, and I am honored to work and live in a community that values equity in education and a culture of excellence."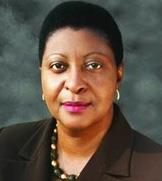 Dr. Collins-Hart joined the Hazelwood School District in 2016 and previously served as superintendent in school districts in Illinois and North Carolina as part of a career in education spanning more than 40 years.
Collins-Hart also is the first African American woman to permanently lead HSD, where more than 50% of the population is African American and 62% of students are minorities.

She says her role in school leadership stems from her experiences with students and the work her mentors have done to shape her lens for equity and student achievement.

"People I respected and admired encouraged me to become a school administrator," Collins-Hart said. "They helped me pursue the positions and supported me along the way."

Collins-Hart is focusing on several important issues in the Hazelwood School District, including early childhood education expansion, school climate and culture that meet the needs of student populations, and studying potential models for thematic schools to drive innovation.
She also continues to focus on gifted education programming for students across the spectrum, redesigning an instructional model that supports teachers through in-classroom assistance, and effective classroom management that reduces disproportionality.
"Dr. Collins-Hart is a champion for students and continuous improvement," said Jon Roach, NASS Executive Director. "Her commitment to collaboration and mutual support in her district proved she is a leader with a demonstrated vision of building the next great generation of American students."

"If you look at what Dr. Collins-Hart has done within her district and community and what she is focused on, you'll see why she is the type of school leader that our students really need," said Sonny Da Marto, NASS Assistant Executive Director.

Collins-Hart will be honored in Washington, D.C. at the NASS IgnitED Conference September 15-17.