Return to Headlines
West Middle School artwork will represent Missouri in Washington, D.C.
Thousands of people will have the opportunity to view artwork created by Hazelwood West Middle School students during the upcoming holiday season.
The school was chosen to create ornaments that represent Missouri in the America Celebrates Christmas display in Washington, D.C.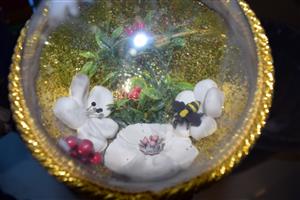 West Middle School is the only school in Missouri and one of only 56 in the nation selected for the project sponsored by the National Park Foundation.
Art students in Elaine Eversgerd's classes were tasked with creating 24 ornaments to hang on a Missouri-themed Christmas tree, to be displayed alongside the National Christmas Tree in President's Park.
Eversgerd chose more than 50 students to help with the project, which first began with choosing a theme for the ornaments.
Students decided to use a theme of Missouri's state flower, the white hawthorn blossom, and the state insect, the honeybee.
Eversgerd wanted to teach students that the opportunity was about more than the artwork.
"When we started it was about the creative process," Eversgerd said. "But as we were working, we talked about how important it is to understand giving back to our country, recognizing servicemen and women and veterans who served our country, so it became a service project for giving back to our country."
The ornaments, about six inches in diameter, took about two weeks to assemble and were shipped to Washington, D.C. in late October.
The America Celebrates display will feature 56 trees, each representing a different U.S. state or territory, surrounding the much-larger National Christmas Tree; the display will be open for public viewing beginning Nov. 28.
Eversgerd also had her students write letters to the President to show their appreciation for being selected and give them an opportunity to share their thoughts.
"I talked about how I think things can be changed in our communities and how things can be better and I also wanted to thank President Trump for giving us the opportunity to display our project," sixth-grader Imani said about the letter she wrote. "I'm happy that we get to represent Missouri and show everybody what we can do and I feel like that's a big opportunity for us."
"Rather than just the art portion of it, I wanted them to become more mindful of what it means to be a citizen and grateful for the opportunity," Eversgerd said. "I thought it would be a special tribute to let our President know that we acknowledge the honor and I want them to be proud of their part in the event."
This is the second time Eversgerd's students and West Middle School have been selected for the project; the first was in 2010.