Return to Headlines
District and community partners come together for School-Based Health Center ribbon-cutting
The Hazelwood School District and its community health partners joined together to celebrate the opening of the Hazelwood East School-Based Health Center Oct. 29.
The ribbon-cutting ceremony marked the start of an innovative new opportunity for HSD students.
The health center is the first of its kind in the Hazelwood School District, and allows students to access several health services during school hours.
Students can receive immunizations, physicals, behavioral services, nutrition guidance, referrals for other medical services, and more at the new facility.
The center was the result of a collaboration between the Hazelwood School District, Christian Hospital Foundation, CareSTL Health, Health Equity Works, and Show-Me School Based Health Alliance.
"We know that this would not have been made possible without the dedication and leadership of our community partners, and we're very grateful to them for that support," HSD Superintendent Dr. Nettie Collins-Hart said. "We are excited that our students can have safe, convenient access to healthcare right now."
The health center will serve approximately 1,300 of the district's middle and high school students.
"School-based healthcare is a powerful tool for achieving health equity among children and adolescents who unjustly experience disparities and outcomes simply because of their race, ethnicity, or family income," Stevens said. "Opening these school-based health centers is making good on our commitment to the community to get outside the hospital's four walls to address these disparities."
One of the primary goals of the center is to cut down on missed class time for students, both by keeping them healthier and providing on-site care instead of students leaving the building for health appointments.
"This center truly is the possibility that, not only do students change what they know about medical care, but it opens up the opportunity to receive medical care right where they are," HSD Coordinator of Health Services Christian Bertel said.
Accessibility also was a driving factor in opening the facility.
"What we wanted to do was increase the access points for children in our community to have preventative services," CareSTL Director of Behavioral Health Regina Askew said. "We want our children to be knowledgable of preventative care, and to be able to access those services."
At the ceremony, Director of Health Equity Works Dr. Jason Purnell discussed how health facilities in schools can help students achieve in multiple ways.
"School-based health centers are an important intervention because of their ability to improve not just health outcomes, but also educational outcomes," he said. "It's partnerships like what we see here today that makes school-based health centers successful and sustainable, but it's also these kinds of partnerships that give us hope for the future of our children, our communities, and our country."
By helping make the center a reality, each of the organizations involved will help make a positive health impact for both the entire HSD community.
"It's a vision of our organization that every child and youth in the state of Missouri has the ability to succeed by having access to quality healthcare," Show-Me School Based Health Alliance Co-Chair Melodie Donatelli said. "It's exciting to be here today to celebrate the commitment the leaders in this room have shown to this community, the students, and their families."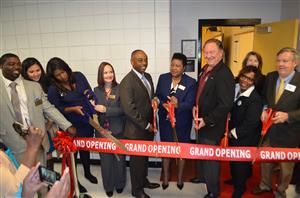 For more photos from the event, click here.